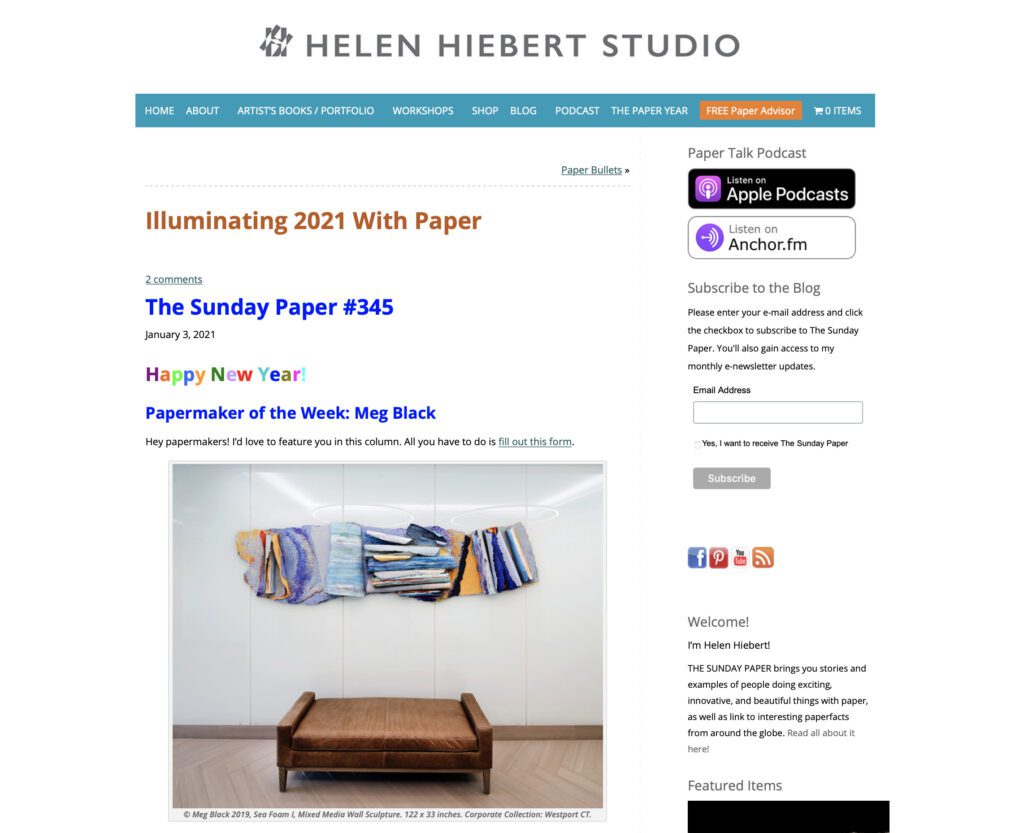 Helen Hiebert is recognized as an expert in the papermaking community-from her knowledge of properties of various pulps to sewing and binding techniques for handmade paper books, Helen is a vital presence in educating papermakers around the world. Given her recognized expertise, I was honored that she asked me to be featured in her blog.
Helen shared my recent commission, Seafoam, which I created for a corporate space in 2018, as the featured image for the blog-good choice, Helen, its one of my all time favorites.
Here is the text from Helen's blog:
Meg Black is an artist who has earned an MFA and Ph.D. in art history. The subject of her work-both as a researcher and a visual artist-is the study of nature and its impact on our sensory experiences. Black creates her work with pulp – largely cotton and well beaten abaca – for two reasons: (1) this material has not been widely used as a painting media, thus she is constantly discovering its potential and is challenged by its capacities which allow her to be a pioneer in this process; and (2) the texture of this media provides an almost three-dimensional quality to the finished surface, thus mimicking nature in all its splendor. Black's unique process and careful attention to craftsmanship provide a seductive, textured surface that lends itself to the natural subject matter of her work. In 2014, Black was the recipient of a 1% for art grant awarded to her for her installation of six large pulp paintings featuring the white birch, the state tree of New Hampshire. Other examples of her pulp paintings are in hospitals, corporate offices, private collections, and town halls and libraries throughout the United States.
Thank you Helen for featureing my work on your blog. I have been following Helen's blog for years-so happy to have my own feature and am enjoying my 15 minutes of fame with Helen's readers.