I'm excited to announce I've been awarded the Sara Gilfert Award, 2023.
      About Sara Gilfert
Sara Gilfert learned the art of Japaneses hand paper making with the renowned paper artist Kazuhiko Ando. In 2002, with Rural Action as a fiscal agent, Sara to Nelsonville, Ohio and renovated the current 35 West Columbus Street. In 2003, Paper Circle was incorporated as non-profit arts organization with the mission of the preservation, advancement and celebration of the paper and book arts. Every year, one paper artist is awarded the Sara Gilfert award. This year, I am proud to share that I am that person.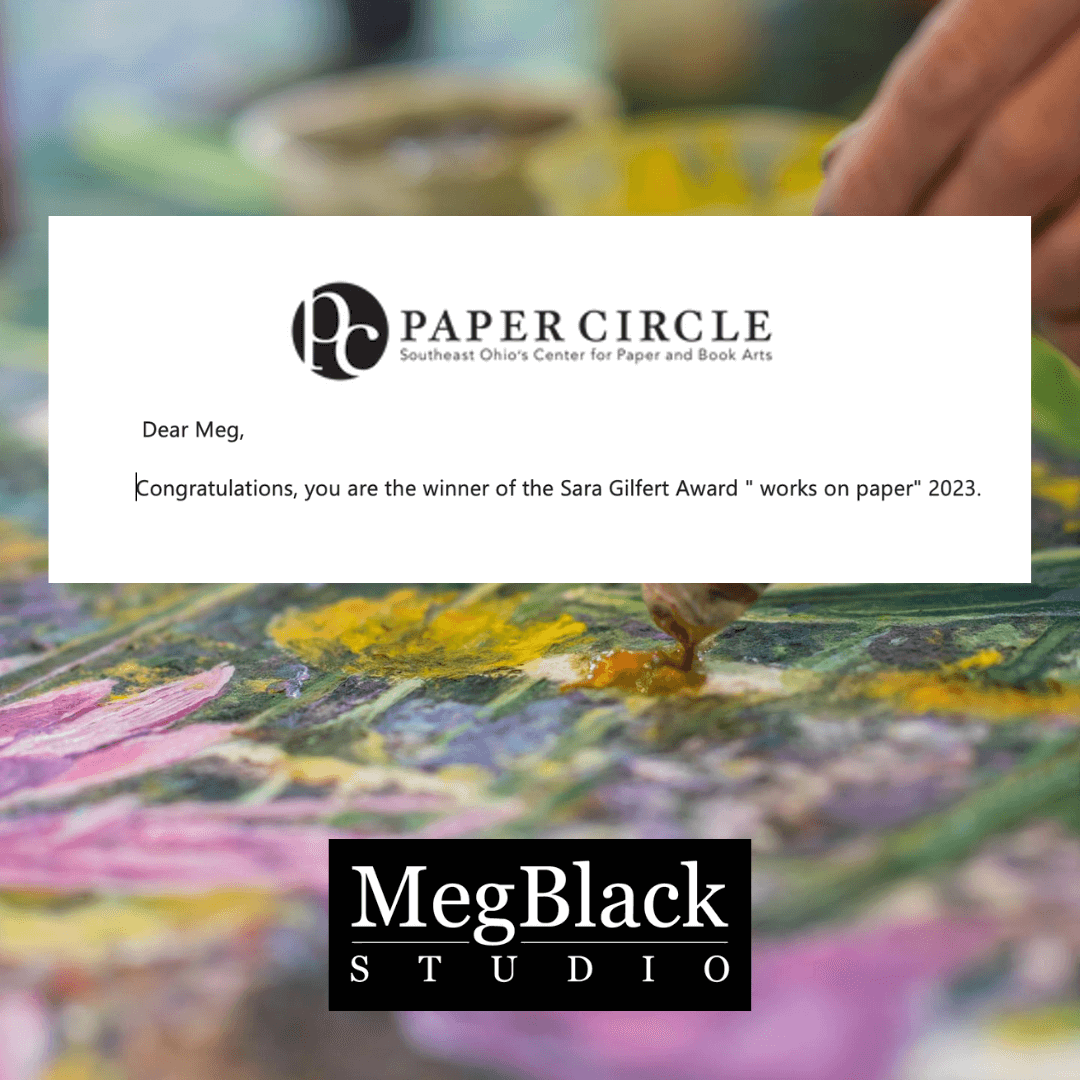 Sign up for my mailing list and receive a piece of flower seed stationery and matching envelope.
     I know your inbox can be crowded, and like me, you only have so much time in the day to sift through your messages. I promise to make reading my newsletter worth your limited time.
     I send out two newsletters a month to my subscribers. As a member, you are entitled to free shipping on every order you place, including gift orders. The free shipping code is automatically set so you can leave it blank when you check out. And, when you sign up, you will recieve a coupon code toward your first purchase. And who doesn't love coupons?
     Beyond this offer, I will share my newest artwork with you before it becomes available to the public, give you a sneak peek at works in progress, and invite you to participate in receptions and workshops in my studio. And of course, given my background in art history, I will share art history fun facts with you from time to time. Just think how informed you will be at your next social gathering when you share these juicy tidbits.
Daffodils, the official flower for March
The official flower for March is the daffodil. Daffodils symbolizes rebirth and new beginnings. It's one of the first flowers to bloom at the end of winter, announcing the beginning of spring and signifying the end of the cold, dark days. Daffodils also symbolize creativity, energy, resilience, forgiveness, and vitality. Visit my gallery to see my flower inspired paintings. 
Wow! What a beautiful painting from a beautiful artist. I love to hear the history behind your paintings. I truly appreciate learning from a true master of her craft.
Elegant, Delicate, and tranquil is how I would describe Meg Black's paintings. Upon viewing Meg's work I was encapsulated and was immediately brought to the moment portrayed in the painting. The realistic nature scenes are absolutely magical.  Any room can be uplifted with the positive energy of her pieces, they are breathtaking to say the least. The aura behind her work leaves you with a warm feeling and truly makes me feel peaceful and relaxed.
Meg Black is associated with several professional associations including North American Hand Papermakers, Friends of Arnold Grunmer, and the American Art Education Association. More>
Meg earned a BFA and MFA in studio art and a PhD in Art Education. Her work has been collected into public and private collections in Europe, North America, and Asia. Resume>
Read about my pulp painting process.
Why paint with pulp? And what is pulp anyway? 👩‍🎨"Pulp" can be made from a lot of materials but in my case I use abaca. Abaca is a fiber from the inner bark of the banana tree. It is extremely strong, acid free, and holds color beautifully. Another use for abaca fiber is to make rigging for sailing vessels and tea bags (ever wonder why yea bags don't fall apart when dipped in hot water)? 👩🏽‍🎨 If you paint with oil on canvas, there is a good chance you are using abaca. Commercial canvas of the highest quality includes abaca fiber to ensure it is strong enough to be framed without glass. 👩‍🎨But why bother using this material when commercially made paint is available? The answer is simple: texture. My work is largely representational with nature imagery as my primary subject. Nature is not only 3D but full of a variety of textures. By using this versatile medium that has a textured quality, I am able to recreate the many textures of nature in my work. From still ponds to crashing shorelines to fields of wild flowers, abaca allows me to recreate these textures on a 2D surface. 👩🏼‍🎨 My slogan "recapture the emotion of nature" comes from using this wonderfully textured material as my painting medium. Read more about my process>
Let me help you complete the picture: contact me to discuss your project.
978 887 8670 or meg@megblack.com